---
03 Dec, 2020 By Admin
When I think of Kerala, the first thing that comes to my mind is Kerala's traditional attire set- mundu, saree, and dhoti which is now becoming a fashion trend. With many brands coming into the picture, a perfect handloom made at a beautiful place like Kuthampully is still a mastery and eminent. Many people are adapting to the changing trends, but some families have their hearts for the ancient handloom sarees. Such is the place Kuthampully located in Thiruvilwamala of Thrissur district.
Kuthampully is located about 50km northeast of Thrissur Town, it is mainly known for traditional cotton weaving. Many traditional families say that "Kuthampully is the place to do the shopping for traditional sarees and dhotis which are perfectly hand-loomed with traditional techniques and methods."
The Kasavu Handloom is immensely famous which is run by 600 families, in which, majority of them belong to the Devanga Community; their true origin is traced from modern-day Karnataka. This community of traditional weavers was brought by the Kochi Royal Family dated 500 years back exclusively for the palace requirements, though they continued following that tradition as a part of their culture.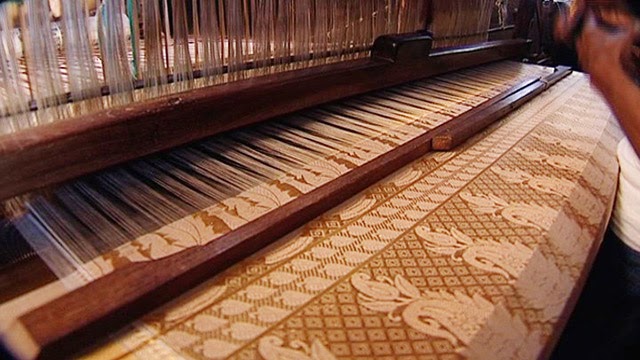 Image ref: https://www.keralatourism.org/destination/kuthampully-handloom-village/584
Kuthampully handloom sarees and settu mundu have received GI Certificate( Geographical Indicator). A GI certificate is given by the government to secure the traditional knowledge of the region or community as they are specialized in a certain product or craft and have a reputation for it.
Kuthampully Handloom Industry Co-operative Society was registered in 1972 with 102 members, they have made sure that the ancient methods that were followed back then are still being continued irrespectively of the changing world and current trends. The Kasavu double dhoti, set mundu and veshti make huge profits during the Onam festival.
Image Ref: https://southloom.com/blogs/news/kuthampully-keralas-lesser-known-handloom-abode
Keeping the current scenario in mind, the floods, the pandemic, and the disapproval of the younger generation toward handloom employment has caused the families a severe crisis.
The government policies as GST has affected handloom weavers, as the price of the needle, cotton, and other raw materials have increased. The weavers who would make a chunk of profit during festivals were unable to do so due to Covid19. Most of the people who work there have a modest income; what you earn is completely based on the speed you work at and how much you can finish in a day.
From the past 15 years, almost 150 weavers have quit weaving and have taken up different professions to earn their daily bread. Everything is slowly changing, as the number of weavers is decreasing in Kerala, people from Tamil Nadu are being hired to continue the tradition.
The tourists, who cannot distinguish between the handmade and power-loomed handloom get manipulated easily. So when you visit Kuthampully, make sure you buy it from the right source and support the local economy. Kuthampally is a great place to visit and recreate the traditions which were followed by our ancestors.